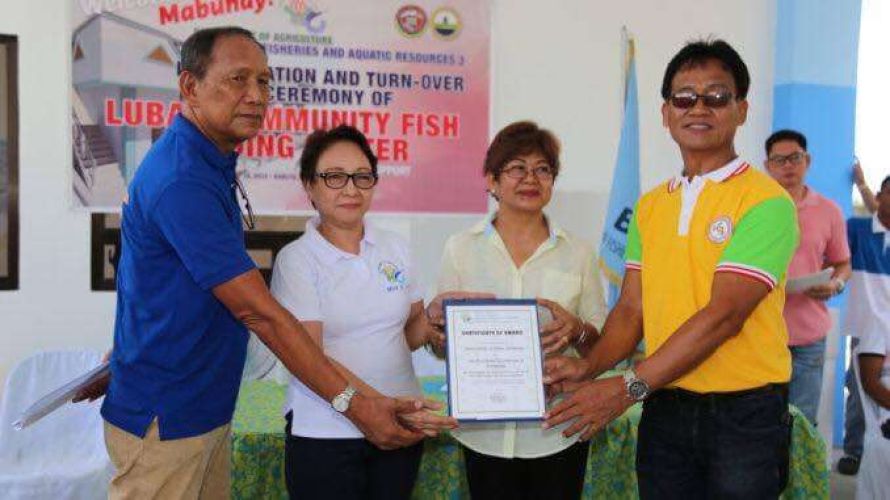 BFAR, Lubao LGU Inaugurate Community Fish Landing Center
The Bureau of Fisheries and Aquatic Resources 3 (BFAR 3) in partnership with the local government unit of Lubao inaugurated on Wednesday a Community Fish Landing Center (CFLC) and distributed fishing and post harvest equipment here worth P6 million.
The construction of the CFLC, equipped with freezers and other tolls for fish processing was pegged at P3.3 million.
The local government unit, according to Maria David, municipal agriculturist of Lubao, purchased the lot in front of the San Rafael Parish Church in Barangay Baruya to house the CFLC.
The CFLC will house post-harvest equipment and tools that will enable fisherfolk to preserve the good quality of their fish and fishery products, which they could sell for a higher price.
Local consumers will also benefit from the fish landing center as they will have better access to safe and quality fishery commodities.
This facility will also be opened as a venue for skills trainings on disaster-resilient fisheries-based livelihoods and resource management such as monitoring fish catch and stock assessment.
The CFLC was established under the targeted actions to reduce poverty and generate economic transformation in the fishery sector program of the Department of Agriculture's BFAR in order to improve the welfare of the fisherfolk in the area.
The center will also serve as a hub for landing and trading of fish and other seafood products.
At the same time, BFAR shelled out P2.7 million for the purchase of fish vending carts, weighing scales, fish nets and solar lamps among others. The tools were distributed to fisherfolks of various districts of Pampanga thru their respective municipal agriculture officer.