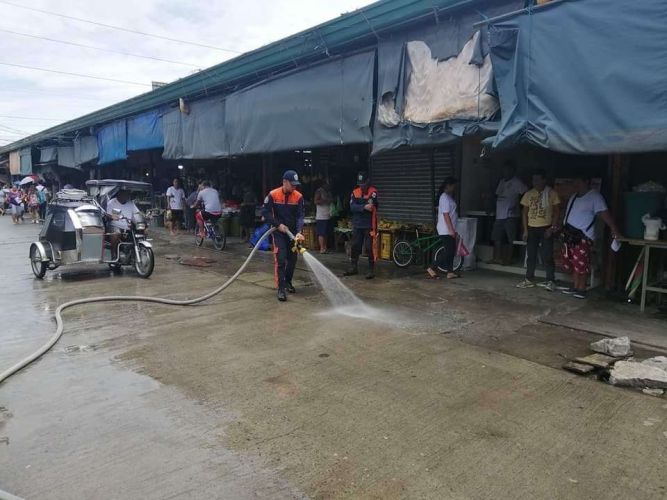 Lubao LGU heeds Duterte SONA call to remove road obstructions
By Albert B. Lacanlale
LUBAO, Pampanga—The local government unit here has taken the initial steps to clear road obstructions within the municipality in response to the President Rodrigo Roa Duterte's directive during his State of the Nation Address (SONA) on July 22, 2019.
Mayor Esmeralda "Esmie" G. Pineda on Monday cascaded to municipal and barangay officials the President's order–reiterated by Memorandum Circular No. 2019-121 issued by the Department of the Interior and Local Government on July 29, 2019—to reclaim public roads that have been on private use of individuals or entities.
A team led by Mayor Pineda and Vice Mayor Jay B. Montemayor, in coordination with the Philippine National Police and Bureau of Fire Protection, launched the operation in Barangay Sta. Cruz, where the town's public market and majority of commercial establishments in the municipality are located.
Sheds, counters and signages that have been erected on the road and the shoulders have been dismantled and removed to open up the streets in a bid to ease up traffic flow.
The DILG memorandum encourages local officials to exercise their powers to revoke permits that give private entities authority to use parts of any public road.
They are also mandated to formulate and implement strategies to help in the relocation of those affected by the clearing.
Mayor Pineda also distributed copies of the DILG memorandum circular to the Liga ng mga Barangay to guide them in implementing the order in their respective villages.
The President, in his SONA, warned local officials of government sanctions should they fail to effect the clearing of roads, alleys and other thoroughfares, which have been for long being used by private individuals or businesses for their personal interests.
The order seemed to have stemmed from the bold moves of Manila Mayor Isko Moreno in clearing streets of the Philippine capital which have become areas for commerce rather than for transportation.
In a statement, Mayor Pineda said the local government unit believes that the President's order is a good step towards attaining more orderly communities.
"The number of business and vehicles is consistently growing at breakneck speed and if we will not do anything today, there will come a time when traffic will no longer be manageable to the detriment of everyone," the mayor said.
Mayor Pineda asked barangay officials to cooperate with the local government unit in implementing the President's order and find a way to keep the roads free from obstructions after the operations.
"We are not doing this because the President warned of possible administrative case for those who fail to implement the order but because we believe that something must be done to make sure that our areas are prepared for whatever effects that progress will come with," the Mayor said.