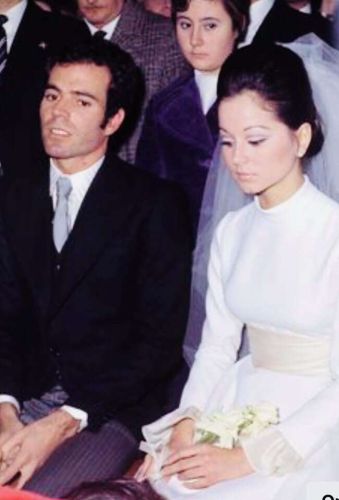 The Lubeña who captured the heart of an international singing sensation
THE KAPAMPANGAN GIRL JULIO IGLESIAS LOVED BEFORE
In Spain, she is known as La Reina de Corazones ("The Queen of Hearts") and La Perla de Manila ("The Pearl of Manila"). She was named the most elegant and glamorous Spanish woman in a poll conducted in 1991, 2002 and again in 2004 and she has consistently topped Madrid's best-dressed lists over the years. She is also the mother of two international singing sensations, Enrique Iglesias and Julio Iglesias Jr.
This Kapampangan girl is Isabel Preysler of the Arrastia clan of Lubao.
Her father is Carlos Preysler, former executive director of Philippine Air Lines (PAL) and member of the board of directors for the El Banco Español-Filipino (later Bank of the Philippine Islands).
The Preyslers came to the Philippines only at the turn of the 20th century. First cousins Joaquin and Fausto Preysler, whose family business was trading Austrian bred horses back in Spain, married first cousins Vicenta Gonzales and Carmen Perez de Tagle, whose family was into abaca/copra business. It was the Fausto-Carmen union that produced Carlos, Isabel Preysler's father.
Isabel Preysler's Kapampangan roots came from her mother, Beatriz Arrastia, daughter of the wealthiest landowner in Lubao at the time, Jose Arrastia. The Arrastias were originally from the Basque region in Spain, noted for its saintly missionaries (like St. Francis Xavier and St. Ignatius of Loyola) and adventurers and fortune-hunters (like Juan Sebastian Elcano, the first to circumnavigate the world after Magellan died mid-journey).
One such Basque adventurer was Jose Arrastia's father, Valentin Arrastia y Roncal, who was only 18 when he arrived in Manila in 1883. He traveled to Pampanga to try his luck in the province, where vast agricultural lands were still up for grabs. In Lubao town he met and eventually married Francisca Salgado y Serrano.
(Lubao would also later attract American colonists seeking to cash in on the booming sugar industry, one of whom was Arthur Kelley, who married Kapampangan Marta Gatbonton of Candaba, and had a daughter, Bessie Kelley, who became Fernando Poe, Jr.'s mother).
After their wedding, Valentin Arrastia and Francisca Salgado built a house that still stands today, but in its new location at the Las Casas Filipinas de Acuzar theme park in Bagac, Bataan. It was this couple who helped a poor boy from Lubao, Diosdado Macapagal, with his early schooling (Don Honorio Ventura of Bacolor was also a later benefactor).
Their son Jose Arrastia married Teodorica Reinares of Udiong (now Orion), a predominantly Kapampangan town in Bataan. Jose and Teodorica's daughter, Beatriz Arrastia, became Isabel Preysler's mother. (Another daughter, Mercedes Arrastia, who married Jose Ramon del Rosario Tuason, once served as the Philippine Ambassador to the Vatican.)
And because Isabel Preysler is the mother of Enrique Iglesias and Julio Iglesias Jr., we can say that the two international superstars have Kapampangan blood in them, too—from Isabel's great-grandmother Francisca Salgado who was a full-blooded Kapampangan from Lubao, and from grandmother Teodorica Reinares who was most likely a full-blooded Kapampangan, too, from adjacent Bataan.
According to Isabel Preysler's friends, she speaks Filipino and hires Filipinos as members of her staff. She took Filipinos to Madrid to be yayas to her kids, which is why Enrique Iglesias is often quoted in interviews that he always heard Filipino (and maybe Kapampangan) spoken around the house while he was growing up.
"If there's one country I really want to help, it's the Philippines, because I'm part Filipino," Enrique Iglesias proudly said in one TV interview. (If someone educates him on his Kapampangan ethnicity, I'm sure he'll proudly proclaim that, too.)
The Preyslers have other relatives with celebrity status. Enrique Iglesias' fourth-degree cousin, Anna Maria Perez de Tagle, is well known in the US for her work in the Broadway hit "Godspell" and in the TV series "Hannah Montana."
Isabel Preysler's step-aunt, Hollywood actress Ruby Neilam Arrastia (Jose Arrastia's daughter out of wedlock with Carmen Salvador, sister of movie director Lou Salvador, Sr.), known for her screen name Neile Adams, was the first wife of Hollywood superstar Steve McQueen (before he married "Love Story" star Ali MacGraw), and grandmother of Steven McQueen, star of TV hit series "Vampire Diaries."
So you can say that the "Vampire Diaries" lead actor is also part Kapampangan and, as historian Alex Castro points out, you can also say that Kapampangan girls stole the hearts of three of the world's most sought-after men, namely, Julio Iglesias, Steve McQueen, and Academy Award winner Michael Caine, who fell in love with Minda Feliciano of Angeles City.
Today, Isabel Preysler, already pushing 70, is still the toast of Madrid society. After her marriage with Julio Iglesias was annulled in 1979, she took care of the two boys plus daughter Ma. Isabel (nicknamed Chabeli).
In 1980, she married Carlos Falco, the Marques de Griñon, Spain's top wine and olive oil producer and pioneer of drip irrigation and other viticulture technologies. They had a daughter, Tamara Falco Preysler, before they divorced.
Isabel Preysler then married Spain's former Finance Minister Miguel Boyer in 1987 with whom she had daughter, Ana Boyer. Their marriage caused a sensation in Madrid because it represented an unlikely alliance between Boyer's ruling Socialist Workers Party and Preysler's aristocracy and glamor. Boyer died on September 2014.
More than her beauty, it is Isabel Preysler's grace, hard work, religiosity, devotion to family and loyalty to the land of birth that best reflect Kapampangan values. To this day, she leads charity events for the Philippine Embassy in Spain and visits her family and friends in Manila from time to time (she and Mario Vargas Llosa visited Manila late last year). She also hasn't given up her Filipino citizenship.
I hope someday she'll make a visit to Pampanga to honor her Kapampangan ancestors and reconnect with her Kapampangan roots.
Her two boys Enrique Iglesias and Julio Iglesias Jr. can tag along, too.